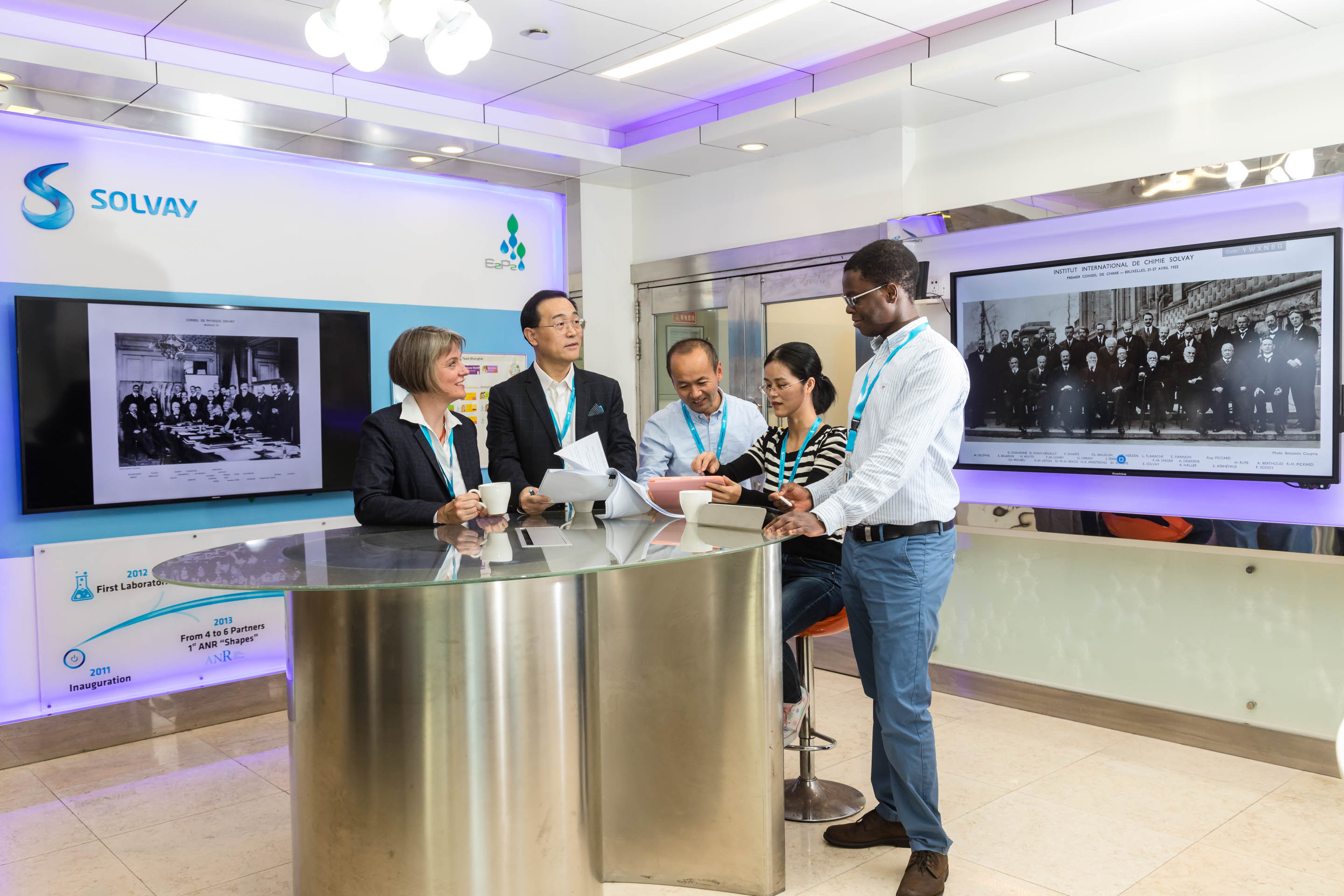 Who we are
E2P2L Vision
​The international joint unit, Eco-Efficient Products and Process Laboratory, E2P2L (UMI 3464 CNRS/Solvay), is a unique international research entity dedicated to renewable and sustainable chemistry. It is based in Shanghai and strives to develop innovative eco-efficient products and environmental benign processes capable of reducing our dependence on oil and fossil resources. 
E2P2L was set up in November 2011 by the French National Scientific Center (CNRS), Solvay, the Ecole Normale Supérieure de Lyon (ENS Lyon) and the East China Normal University (ECNU). In 2013, the University of Lille Sciences et Technologies and the University of Fudan also joined the research consortium.
Why E2P2L?
Undeniable climate change and mitigation of fossil resources calls for unprecedented mobilization of our societies, with scientific research efforts being one key element to deliver the expected solutions. This is particularly true for the chemical industry that is now fully embarked into a strategy of continuous improvement of its impact on the environment. This can be in practice achieved not only by reducing the carbon footprint of the processes, but also by designing new eco-efficient products and synthetic routes affording a better utilization of renewable resources.
The complexity of the scientific challenges to develop eco-efficient solutions imposes necessarily the combination of a large variety of skills. We believe that only by developing a multidisciplinary and transversal teamwork approach combining fundamental research and technological developments we can overcome the main barriers against innovation.
Accordingly, since its birth, E2P2L was positioned as an open innovation collaborative laboratory addressing cutting-edge academic breakthrough concepts in the field of Green Chemistry for the design of eco-efficient processes and sustainable products. The location of E2P2L at Solvay's R&I center in Shanghai aimed not only at favoring the interaction with the different local teams and GBUs, but also at promoting its academic visibility. In this view, E2P2L was designed to boost international collaborations, mainly between leading Chinese and European academic laboratories, including the promotion of Sino–French relations and industrial–academic partnerships.
 
Why in China
The strong growth of China and increasing quality of its researchers and students represent a huge opportunity both for fundamental and applied chemistry. Also, China faces some urgent environmental challenges and the Chinese government supports strongly research in the related fields, thus developing a fertile ground for new technologies. 
E2P2 is a unique international hub in China bringing together both top universities from France and China along with a European industrial partner having a strong footprint in China. Such consortium allows to tackle ambitious projects targets that can benefit both Europe and China in the field of sustainable chemistry.