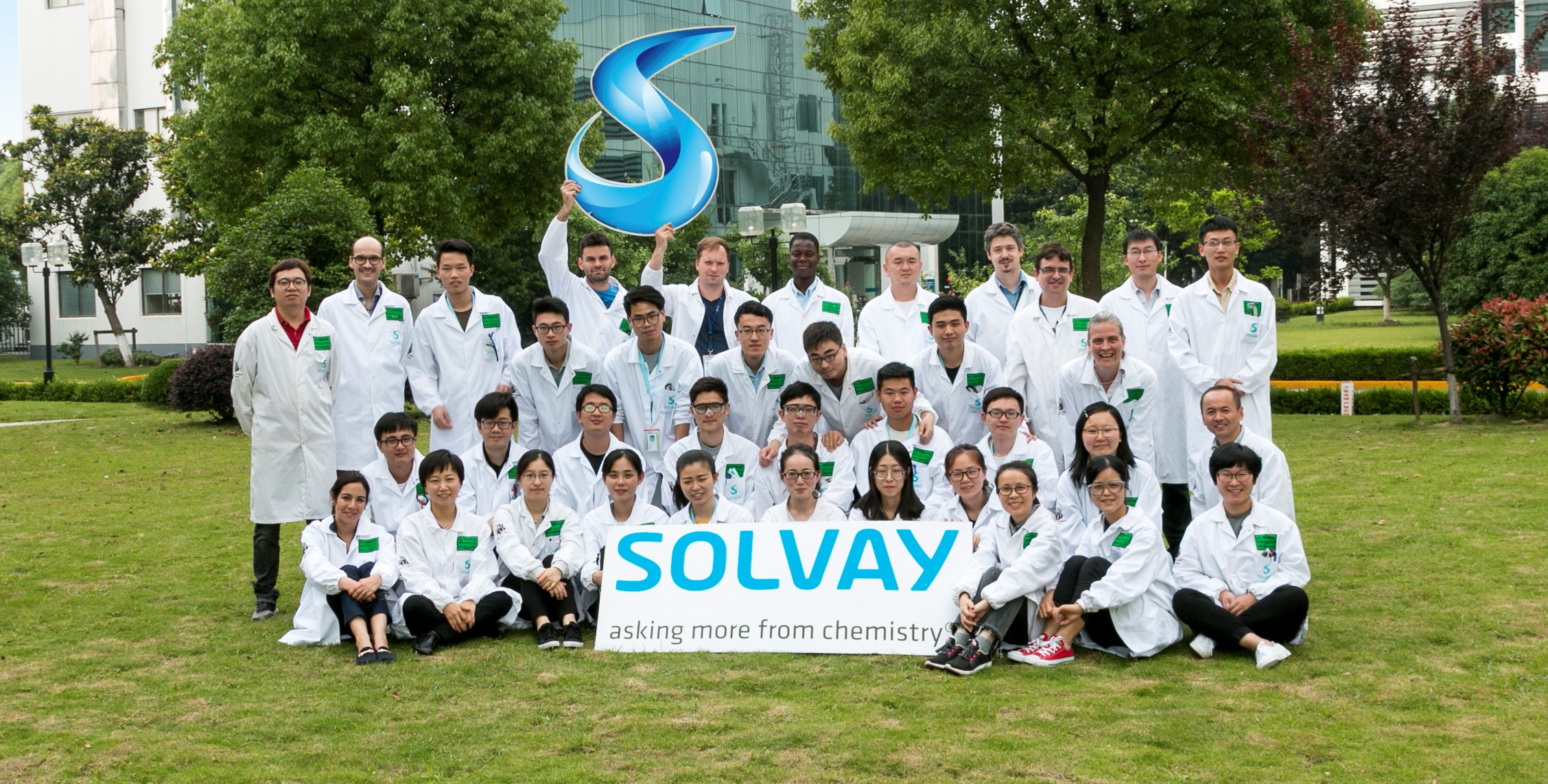 E2P2L Team
Diversity as a strength – Our team is multicultural, multinational & multidisciplinary
E2P2L is structured as a multinational, multidisciplinary, and multicultural team of researchers, engineers, and students. E2P2L serves as an example of daily lived diversity: About 50% international researchers, 7 different nationalities, about half of the team with Chinese nationality, and a close to equal gender distribution. As a result, English is our working language and Chinese our second language.
The composition is as follows:
3 Full-time CNRS researchers

Several  Co-financed postdoc researchers

Several Co-financed PhDs

Solvay researchers and engineers with balanced skills (e.g. homogeneous and heterogeneous catalysis, material science, organic synthesis, electrochemistry, theoretical chemistry, chemical engineering)
The E2P2L is organized in four teams. These four teams comprise both Solvay and CNRS scientists, collaborating, when necessary, with local and overseas Solvay teams, as well as academic partners. 
Eco-Formulation, 

Breakthrough processes,

Catalysis (amination, oxidation, hydrogenation),

Modeling and Simulation.
Additionally, E2P2L hosts a high number of interns year per year. Every year a total of about 26 interns work within the unit, usually for the duration of 4 to 6 months.
The experimental capabilities are installed in three laboratories in the same building and on the same level. They fulfill the highest safety and research quality standards. Thanks to this set-up E2P2L assembled a very strong multi-disciplinary team capable of developing new breakthrough ways of making molecules but also how to use them.
List of our Team Awards
2020

Yan Zhen

: "Shanghai Model Worker", from Shanghai Municipal Government 

Bright Kusema

was awarded the title of "Docent in Industrial Catalysis" by the Chancellor of Åbo Akademi University.

2018

Wenjuan Zhou

: Awarded by the "Shanghai Youth Top-notch Talent" honor.

Yan Zhen

: High-Level Talents of Xinzhuang Industrial Zone, 2018 Minhang District Leading Talents Program.

Mengjia Wu

:  High-Level Talents of Xinzhuang Industrial Zone.

Vitaly Ordomsky

: 2018 CNRS Bronze Medal.

"Innovation Team Best Practices 2018 award by Club de Paris des directeurs de l'innovation.

2017

Marc Pera-Titus

: Young Scientist Award from the Division of Catalysis (DivCat) of the French SOCie-ty of Chemistry (SCF).

Wu Mengjia

: Shanghai Association of Young Talents in Science & Technology (selected member).

E2P2L Amination team wins the "Golden Prize of 2017 International Exhibition of Inventions"

Solvay China Research & Innovation Center in Shanghai wins "Pioneer Workers" award

2016

Mengjia Wu

: Shanghai Rising Star.

"Responsibility and Innovation" Award in Corporate Social Responsibility Excellence Awards Summit in Shanghai

2015

Yan Zhen:

The Second Prize, Scientific and Technological Innovation Projects of Minhang District, Shanghai, May 2015

Zhou Wenjuan:

Copper Award on International Exhibition of Inventions

Shanghai Model Team (2015年 上海市模范集体)

2014

Yan Zhen:

Great contribution to China Dream

Sino-French Innovation Awards 2014: Special Mention

Sino-French Innovation Awards 2014: E2P2L achieved 2nd

Shanghai Zhangjiang Joint Lab for Talent Training




(2014年 上海张江国家自主创新示范区产学研联合实验室&重点领域人才培养实训基地)

Shanghai Academician and Expert Work Station




(2014年 上海市院士专家工作站)

Engineering Master Practice Base recognized by Shanghai Education Committee




(2014年上海市教委认可全日制工程硕士实践基地)

Shanghai Scientific Little Giant




(2014年 上海市科技小巨人)

Minhang Scientific Little Giant




(2014年 闵行区科技小巨人)

2013

2013 October: E2P2L is Winner of Solvay's Innovation Award: Managerial innovation

Shanghai Enterprise Technical Center

(2013年 上海市企业技术中心)

2012

Shanghai Foreign Investment R&D Center
Scientific Policy
Since its birth, E2P2L has defined a global scientific policy. The unit conducts projects which target the discovery and development of innovative solutions for the sustainable manufacturing of chemical products and processes.  
Typically, the scientific challenges are complex and require scientific breakthrough approaches rather than incremental improvements. In the design of UMI projects, special care was taken on finding a healthy balance between the interests of the different partners and their level of implication in the projects, i.e. allocation of human, financial and instrumental resources. Each project is documented by a project file defining the main objectives, tasks and contributing partners.
E2P2L integrates whenever possible the methodology of Eco-Efficient evaluation for project design, which constitutes an emerging field both in industry and academia. This methodology consists of measuring the economic and ecological dimension or footprint of a given product or process and provides quantifiable data that can be used to identify opportunities for developing sustainable solutions. Many of such opportunities are blocked by the lack of proper technologies and usually require a scientific breakthrough to be achieved. At E2P2L, projects are designed with clear environmental and economic targets relying on Life Cycle Analysis (LCA) against benchmark technologies.